Remothered: Tormented Fathers

'Remothered: Tormented Fathers' official cover art

Director;

Chris Darril

Developer(s);

Stormind Games

Publisher(s);

Darril Arts

Release Date(s);

October 31st, 2017 (Steam Early Access)
January 30th, 2018 (Steam Full Release)
July 25th, 2018 (PS4, Xbox One)

Platform(s);

PC, PlayStation 4, Xbox One, Nintendo Switch
Remothered: Tormented Fathers is an award-winning third person psychological horror game and the first chapter of Chris Darril's Remothered trilogy. It is the first game developed by Darril Arts with a joint partnership with Stormind Games. Remothered is claimed to be the REAL answer to survival horror genre" and pays tribute to the classic horror genre.
The game was released in the Early Access phase on October 21st 2017 for PC via Steam, the full game was released on January 30th, 2018, a year after the game was first announced. The game is now available on PlayStation 4 and Xbox One from July 25th, 2018 and soon to be ported on the Nintendo Switch.
Characters
Edit
Main Characters
Edit
Supporting Characters
Edit
Remothered is confirmed to be a trilogy and the games are planned to be fully released over the next few years. According to the game's director, you will be able to buy the games separately, or as a bundle through a planned season pass. Each game will run between 6 to 7 hours long.
On April 11th, 2019, during the Italian Game Awards ceremony, Remothered: Tormented Fathers won the award for "Best Italian Game". Before wrapping up the game's award ceremony, a video was previewed from the CEO of Maximum Games and Modus Games, Christine Seeyle, congratulating the development team and formally announced that Modus Game is currently in development for chapter 2, Remothered: Going Porcelain.
Remothered: Tormented Fathers (Original Soundtrack)



Artists

Nobuko Toda, Luca Balboni

Released

January 30, 2018

Length

01:11:50
The game's soundtrack was composed by Japanese musician Nobuko Toda, who is known for her work on the
Metal Gear Solid
 series as well as 
Bethesda
's horror project 
The Evil Within
 and 
Halo 5
. During the end of February 2017, Darril Arts announced the extra involvement of another musician, Luca Balboni, an appreciated Italian composer that honed his skills at
Remote Control Production
of the Academy Awards winner
Hans Zimmer
.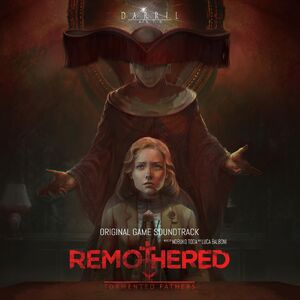 The main theme Tormented Fathers was composed by Nobuko Toda.
The theme song Top of the World (Two Hearts Never Lonely) was written by Chris Darril and Nobuko Toda, the vocals were performed by Italian singer Federico Villaruel.
The opening song To Say Goodbye was written and performed by Luca Balboni.
The tracks Ashes and Lullaby for a Broken Heart were performed by a Japanese opera singer Satomi Yanagibashi.
Memory of You, the song playing on Arianna's record player, was composed by Mattia Cupelli and performed by Rachel Hardy.
The soundtrack is available for purchase with the game through the official website. It can also be bought separately through Amazon and Itunes.
Tracklist
Edit
Prelude (Top of the World) (2:55)
Our Story (2:37)
To Say Goodbye (1:23)
The Arrival (1:12)
God's Lethal Creatures (2:46)
Illness is a Murderer (1:28)
The Gardener (2:32)
Missing (3:38)
Phenoxyl (6:40)
Tormented Fathers (2:03)
Red Nun (2:20)
A Mother's Love (2:44)
Split (2:42)
Jennifer (1:36)
Ashmanns' Heir (4:06)
Deadly Swing (5:34)
Ashes (2:22)
The Fall (2:00)
Forgiveness (5:05)
Hope on Top of the World (3:44)
Lullaby for a Broken Heart (1:22)
Top of the World (Two Hearts Never Lonely) (4:04)
Memory of You (3:44)
Bonus track: Memory of You (record player version) (7:21)
Influence
Edit
Chris Darril has stated that much of his inspiration for Remothered comes from Polanski's cinematography, as well as King's literature. He has also been inspired by games such as Haunting Ground, Rule of Rose, Silent Hill and the hide&seek gameplay proposed by the terrifying Alien: Isolation.
External links
Edit